April 13, 2018

– madera courthouse park
Every year, Victim Services Center coordinates, the Walk a Mile in Her Shoes Awareness and Fundraiser Event. Close to 100 men and boys in Madera County that will adorn women's shoes and walk around Courthouse Park. The purpose of this event is to bring awareness of sexual assault in our community. Research states that 1 in 3 women and 1 in 6 men will experience an unwanted sexual assault or abuse. The 11th annual Walk a Mile in Her Shoes Event will be held Friday, April 13, 2018.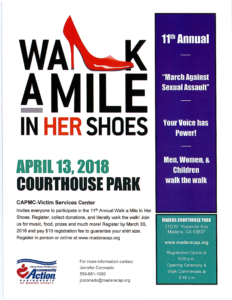 One of the programs to benefit from this year's proceeds is the Child Forensic Interviews. This program allows children that are victims of crimes or witnesses to be interviewed in a friendly child-focused way. In 2017, 126 children were interviewed at our center. This year, the goal is to raise $10,000. Please come out and support our event!
Click here to register for the 2018 Walk-A-Mile event.
To download the Event Packet, which includes the pledge form, please click here.