Are you interested in being a Head Start volunteer?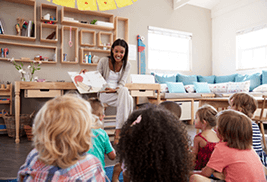 CAPMC Head Start welcomes volunteers into its classroom. Your involvement as part of the teaching team can be an enjoyable experience for you and the children in the center.
In order to volunteer in any of the Head Start centers, there are some requirements that will need to be met. SB 792 requires that any volunteer that come in contact with children provide proof of current TB test, MMR, TDaP, and Flu vaccines. Proof of immunizations will need to be provided to the center staff prior to volunteering.  Please click here to access the form with information on these requirements
Here is additional information to be aware of when considering volunteering in Head Start:
Center Policies and Procedures
Health and safety is a primary concern at our centers. For this reason, adults and children need to wash their hands before and after going outdoors, activities, breakfast/lunch, etc.
Periodically, the center holds fire, earthquake and evacuation drills. You are to assist when there is a drill; follow the teacher's directions in assisting the children out of the building calmly.
When a child has an accident, you are to care for the child; but notify the teacher immediately. The teachers will completion an incident form. The classroom teacher/teacher aide must be qualified in first aid.
You are a part of the teaching team. Your assistance as an adult supervising children is important in the safety of children. You are assisting the teacher with the whole group of children. Report any concerns regarding children to the teacher promptly.
Children need adult supervision at all times. Notify another staff member if you must leave the group or classroom. Never leave a child unattended
All information concerning children is confidential and is not to be discussed outside the center. This protects all children and parents right to privacy.