Senior Nutrition Program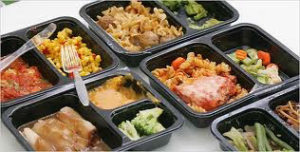 The Senior Nutrition Program offers adults 60 years and older in Eastern Madera County and the City of Chowchilla a nutritionally balanced, delicious lunch for a suggested donation of $1.75 per meal. Lunch is served on days and times as indicated by site. No senior will be denied a meal due to the inability to donate. Call the site of your choice ahead to reserve a meal.
Meals are served at:
Coarsegold Senior Center
35610 Hwy 41
Coarsegold, CA 93614
(559) 683-7953
M/T/Th: 10:00 a.m. – 1:00 p.m.
North Fork Senior Center
56442 Road 200
North Fork, CA 93647
(559) 877-2346
M – F: 10:00 a.m. – 1:00 p.m.
Ranchos/Hills Center
37330 Berkshire Drive
Madera, CA 93638
(559) 645-4864
M– F: 10:00 a.m. – 1:00 p.m.
Sierra Senior Center
49111 Cinder Lane
Oakhurst, CA 93644
(559) 683-3811
M – F: 10:00 a.m. – 1:00 p.m.
Chowchilla Senior Center
820 Robertson Blvd
Chowchilla, CA 93610
(559) 416-6038
M – F 10:00a.m. – 1:00 p.m.
Meals on Wheels:
If you are 60 years of age or older, and you are unable to leave your home to join us at one of our congregate meal sites you may be eligible for home delivered meals. This service provides delivered meals to seniors, seven meals are delivered Tuesday through Friday (excluding holidays). There is a suggested donation of $2.00 per meal.
For Meals on Wheels, please call: 559-214-0299
Senior Citizen Bus & Escort Program
These programs are now operated by Fresno EOC.  Please see this article for more information: Fresno EOC Transit Systems expand routes to Madera County or call them at (559) 263-8080.