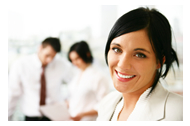 Our Agency-wide leadership team includes the Executive Director and 11 program managers. They set the Agency's overall direction and are responsible for all major strategic, financial, and operational decisions.
We pride ourselves on growing talent from within, and many of our senior leaders have risen through Agency ranks over the past three decades. In order to maintain our lead in these fast-changing economic times, our leadership team includes program managers who bring new ideas from other human services agencies.
Meet our Executive Management Team
Mattie Mendez
Executive Director
Mattie Mendez assumed the position of Executive Director for CAPMC in August of 2011. Prior to that, she served as the Head Start Director for both Madera Migrant Head Start and Madera/Mariposa Head Start programs for Community Action Partnership of Madera County since 2005 and in other capacities within the agency since 1994. As Executive Director, Mattie is responsible for overseeing an annual operating budget of approximately $27,000,000 and provides direction to a staff of 330 employees.
Mattie received her Bachelors of Arts degree from California State University Fresno in 2005. Mattie also has extensive experience in board and staff development, personnel management, fiscal management, policy and program development, contract compliance, public relations, strategic planning, legislative advocacy, resource attraction, planning/research and affirmative action compliance.
Click here to read the full article from the August 12, 2011 issue of the Madera Tribune.
Donna Tooley
Chief Financial Officer
Mrs. Tooley originally began working for Community Action Partnership of Madera County (CAPMC) as an Accountant Consultant in December 1993, and in May 1994, accepted an appointment as Accountant Program Manager. In March 2000 she assumed the responsibility of Chief Financial Officer for the Agency.
At the time Mrs. Tooley joined CAPMC, she had over 15 years of experience in accounting, auditing, and financial management. Her background includes over seven years in public accounting, four years in municipal government, and four years with for-profit organizations. Mrs. Tooley is a long time Certified Public Accountant licensed in both Texas and California who earned her Bachelor of Business Degree from Southern Methodist University in Dallas, Texas.
Irene Yang
Human Resources Director
Irene Yang is the Human Resources Director with Community Action Partnership of Madera County (CAPMC). In this role, Irene Yang leads the Human Resources team providing all aspects of workforce functions, including recruitment, safety, employee relations, compensation & benefits, compliance, and training & development.
Before joining CAPMC in 2006, Irene Yang worked years for a diverse range of organizations, including Cross Cultural Family Center, YWCA Apartment, Inc., Kantola Production, and Bow Corporation (in the sectors of non-profits, private, and business startups).
Irene Yang is a Certified Community Action Professional and holds a BA in Economics and a minor in Chinese from the University of California, Davis.
Elizabeth Wisener
Community Services Program Manager
Elizabeth Wisener, a thirty-year resident of Madera County, has a strong commitment to the San Joaquin Valley. She graduated from Fresno State in 1991 with a Bachelor of Science degree in Business Administration with emphasis in Accounting. Elizabeth has a twenty-year work history of providing financial management for State and Federal grants for non-profit organizations. Her work history in financial management has prepared her to assume the role of Community and Family Services Program Manager for the Community Action Partnership of Madera County.
Elizabeth has been employed with the agency for over eleven years. She currently oversees several programs which include the following: Low Income Heating and Energy Assistance Program, the Drought Water Assistance Program, the Eastern Madera County Transportation Program and the Shunammite Place, a permanent supportive housing project for chronically homeless women with disabilities.
Elizabeth has a passion for serving the low income and homeless of the community! She considers it a joy to come to work every day and have the opportunity the live the agency mission of "Helping People, Changing Lives, Making Our Community a Better Place to Live……..".
Leticia Murillo
Child Care Alternative Payment and Resources & Referral Program Manager
Leticia Murillo has been with CAPMC for over 10 years. She began as a Data Entry Technician for Head Start in 2005. She transferred to the Child Care Alternative Payment and Resource & Referral Program in 2006 as a Family Services Associate, to help families obtain subsidized child care. From this position she was promoted to Family Services Associate III, where she performed in-house audits on case files, prepared for state review of the program and provided on-going training and support to staff.
Due to her skills, Leticia was given the opportunity to participate in the Leadership Development Program – Succession Planning, to prepare for an organizational change in senior or key leadership positions.  In 2016 Leticia was promoted to Child Care Alternative Payment and Resource & Referral Program Manager. She now oversees the entire subsidized child care and resources & referral programs.
Leticia earned her Bachelor's Degree in Business Administration from National University, Fresno, CA.  She enjoys spending time with her children and family and believes that life is a gift that we must enjoy.
Flora Chacon
Director of Fresno Head Start
Flora Chacon earned a Masters of Arts in Leadership and Organizational Studies with an emphasis in Conflict Management and Resolution from Fresno Pacific University.  Ms. Chacon has a Bachelor's of Science in Business Administration with an option in Management from the University of Phoenix.  She also earned an Associate of Science in Early Childhood Education from Fresno City College. Ms. Chacon graduated Summa Cum Laude and is a Certified Peace Maker.  Flora serves as a consultant with community based organization on the topics of workplace communication and conflict resolution. In February 2014, she was elected as Member at Large to the National Migrant and Seasonal Head Start Association (NMSHSA) Directors' Affiliate group and concurrently will serve as a member of the NMSHSA Affiliate Board.
Mrs. Chacon has been married for 28 years to Rick Chacon and has two children Nick and Mick. She has many vested interests, including: the history and application of Feng Shui. She is a longtime supporter of No Kill Animal Shelters and The Humane Society. Her favorite activities include horticultural, Sudoku and ghost hunting.
Maritza Gomez
Director of Madera Head Start
Maritza has been with CAPMC for over 20 years and is currently the Madera/Merced/Mariposa Head Start Director. Her first job with CAPMC was a Program Assistant. As a Program Assistant she supported all CAPMC programs – Head Start, Victim Services, Community Services and Resource and Referral. In 1996 she was promoted to Health Coordinator for the Migrant Head Start Program. Maritza truly enjoyed working for both Head Start programs. When she became the Health Coordinator for Migrant she fell in love and found her passion for the Migrant program. She believes it is an honor and privilege to be able to serve the Migrant families and know that she is making a difference in their lives or contributing to their success in a small way.
In 2005, Maritza graduated from Fresno Pacific University with a BA in Management Organizational Development.
Tina Figueroa
Victim Services Program Manager
Ms. Figueroa began her career as a volunteer in 1999 for the Marjoree Mason Center in Fresno, California. Shortly after volunteering, she was offered a position as a Victim Advocate with Sequoia Health Centers in Fresno. She accepted, and in 2004, was promoted to Lead Advocate. After graduating from California State University Fresno in 2007, Ms. Figueroa was hired by CAPMC as Program Manager for the Victim Services Department. Ms. Figueroa knew she found her calling when she first volunteered for Marjoree Mason, and has dedicated herself to the field of victimology ever since.attie