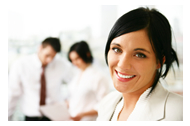 Our Agency-wide leadership team includes the Executive Director and 7 Department Heads. They set the Agency's overall direction and are responsible for all major strategic, financial, and operational decisions.
We pride ourselves on growing talent from within, and many of our senior leaders have risen through Agency ranks over the past three decades. In order to maintain our lead in these fast-changing economic times, our leadership team includes program managers who bring new ideas from other human services agencies.
Meet our Executive Management Team
Mattie Mendez
Executive Director
Mattie Mendez assumed the position of Executive Director for CAPMC in August of 2011. Prior to that, she served as the Head Start Director for both Madera Migrant Head Start and Madera/Mariposa Head Start programs for Community Action Partnership of Madera County since 2005 and in other capacities within the agency since 1994. As Executive Director, Mattie is responsible for overseeing an annual operating budget of approximately $27,000,000 and provides direction to a staff of 330 employees.
Mattie received her Bachelors of Arts degree from California State University Fresno in 2005. Mattie also has extensive experience in board and staff development, personnel management, fiscal management, policy and program development, contract compliance, public relations, strategic planning, legislative advocacy, resource attraction, planning/research and affirmative action compliance.
Click here to read the full article from the August 12, 2011 issue of the Madera Tribune.
Daniel Seeto
Chief Financial Officer
Irene Yang
Human Resources Director
Irene Yang is the Human Resources Director with Community Action Partnership of Madera County (CAPMC). In this role, Irene Yang leads the Human Resources team providing all aspects of workforce functions, including recruitment, safety, employee relations, compensation & benefits, compliance, and training & development.
Before joining CAPMC in 2006, Irene Yang worked years for a diverse range of organizations, including Cross Cultural Family Center, YWCA Apartment, Inc., Kantola Production, and Bow Corporation (in the sectors of non-profits, private, and business startups).
Irene Yang is a Certified Community Action Professional and holds a BA in Economics and a minor in Chinese from the University of California, Davis.
Ana Ibañez
Community Services Program Manager
Leticia Murillo
Child Care Alternative Payment and Resources & Referral Program Manager
Leticia Murillo has been with CAPMC for over 10 years. She began as a Data Entry Technician for Head Start in 2005. She transferred to the Child Care Alternative Payment and Resource & Referral Program in 2006 as a Family Services Associate, to help families obtain subsidized child care. From this position she was promoted to Family Services Associate III, where she performed in-house audits on case files, prepared for state review of the program and provided on-going training and support to staff.
Due to her skills, Leticia was given the opportunity to participate in the Leadership Development Program – Succession Planning, to prepare for an organizational change in senior or key leadership positions.  In 2016 Leticia was promoted to Child Care Alternative Payment and Resource & Referral Program Manager. She now oversees the entire subsidized child care and resources & referral programs.
Leticia earned her Bachelor's Degree in Business Administration from National University, Fresno, CA.  She enjoys spending time with her children and family and believes that life is a gift that we must enjoy.
Maritza Gomez-Zaragoza
Head Start Director
Maritza has been with CAPMC for over 20 years and is currently the Madera/Mariposa/Fresno Head Start Director. Her first job with CAPMC was a Program Assistant. As a Program Assistant she supported all CAPMC programs – Head Start, Victim Services, Community Services and Resource and Referral. In 1996 she was promoted to Health Coordinator for the Migrant Head Start Program. Maritza truly enjoyed working for both Head Start programs. When she became the Health Coordinator for Migrant she fell in love and found her passion for the Migrant program. She believes it is an honor and privilege to be able to serve the Migrant families and know that she is making a difference in their lives or contributing to their success in a small way.
In 2005, Maritza graduated from Fresno Pacific University with a BA in Management Organizational Development.
Jennifer Coronado
Victim Services Program Manager
Xai Vang
Information Technology (I.T.) Program Manager