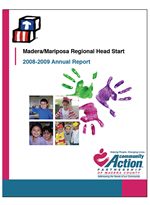 Established in 1965, Head Start promotes school readiness for children in low-income families by offering educational, nutritional, health, social, and other services. Since its inception, Head Start has served more than 34 million children, birth to age 5 years, and their families. In 2016, Head Start was funded to serve nearly one million children and pregnant women in centers, family homes, and in family child care homes in urban, suburban, and rural communities throughout the nation.
Head Start programs support children's growth and development in a positive learning environment through a variety of services, which include
Early learning: Children's readiness for school and beyond is fostered through individualized learning experiences. Through relationships with adults, play, and planned and spontaneous instruction, children grow in many aspects of development. Children progress in social skills and emotional well-being, along with language and literacy learning, and concept development
Health: Each child's perceptual, motor, and physical development is supported to permit them to fully explore and function in their environment. All children receive health and development screenings, nutritious meals, oral health and mental health support. Programs connect families with medical, dental, and mental health services to ensure that children are receiving the services they need.
Family well-being: Parents and families are supported in achieving their own goals, such as housing stability, continued education, and financial security. Programs support and strengthen parent-child relationships and engage families around children's learning and development.
Source: Office of Head Start
Community Action Partnership of Madera County provides preschool opportunities through the programs listed below. Please click on the link of the program you want more information on for more detail and eligibility.
Madera/Mariposa Regional Head Start provides preschool services in the City of Madera, Chowchilla, Fairmead, Oakhurst, North Fork and the City of Mariposa. The program provides two service options; full day – 6 hours and part-day – 3.5 hours.
For more information about the Madera/Mariposa Regional Head Start Program click here.
Madera Migrant/Seasonal Head Start, is delegate of Stanislaus County Office of Education Central California Migrant Head Start. The program provides preschool services to children and families in the City of Madera. Full-day services – 10 hours per day are provided to 559 children, ages six weeks to five years of age.
For more information about the Madera Migrant/Seasonal Head Start Program Click here.
Fresno Migrant Head Start, a delegate of Community Action Partnership of San Luis Obispo County, Inc., provides early education and other services to low-income children of migrant or seasonal families in Biola, Firebaugh, Five Points, Huron, Mendota, Orange Cove, Parlier, Reedley, and Selma. Full-day services at 10 hours per day are provided to 519 children, ages six weeks to five years in the area.
For more information about Fresno Migrant/Seasonal Head Start, click here.