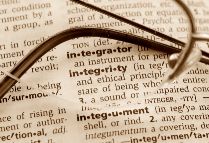 Integrity in Action
If you see or suspect improper, unlawful, or unethical conduct, don't ignore it, speak up. Talk to your manager or if you prefer, contact The Network.
Click here to report online
or
Call toll-free
1-877-453-7244
Consider your actions and ask questions.
If ever in doubt about a course of conduct, ask yourself:
Is it consistent with The Code and/or Agency Policy?
Is this the right thing to do?
Is it legal?
Is it ethical?
Am I sure my action does not appear inappropriate?
Will it reflect well on me and the Agency?
Would I feel comfortable defending my actions on the 6 o'clock news?
Each individual should be able to answer "yes" to all of these questions before taking action.
The Agency has retained the services of The Network, an independent reporting service that allows you to communicate your concerns anonymously and confidentially via Internet or telephone anytime day or night. It operates 24 hours a day, seven days a week, and translation services are available at all times.
When you contact The Network
You will be given the option to remain anonymous. A customized Web form or professional interview specialist will then document your concern in detail.
The information you provide will be relayed to our Agency for appropriate follow-up.
You may be asked to check back to provide additional information or to answer questions our Agency might have as we investigate your concern.
Reports submitted to The Network will be handled promptly and discreetly. Retaliation against anyone who reports a concern is a violation of our Agency's principles and will not be tolerated.