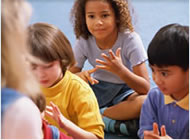 Community Action Partnership of Madera County (CAPMC) houses Madera County's Child Care Resource & Referral (CCR&R), a service funded by the California Department of Education to provide information and resources to families and child care providers who live and work in Madera County. We serve as the community child care link between parents and families, and the quality child care they are looking for.
Are you a parent seeking quality child care?
As the designated Resource & Referral agency for Madera County, CAPMC CCR&R helps families find a child care provider that will meet their needs. Our referral services are always free and confidential. Please call our office at (559) 675-8469 or 1 (800) 505-0404 Monday through Friday 8am-5pm.
Access our Child Care Referral Services and Education For Parents page.
Are you a child care provider seeking training to improve your quality of care?
By providing continuing education and professional growth opportunities, quality child care in Madera County is increasing. CCR&R can help child care providers get their business started and gain the professional skills needed in order to succeed. CCR&R also offers assistance in the form of partial reimbursement for required CPR/Health & Safety Courses and stipends for completing training hours (upon availability of funds).
Access our Resources and Education For Providers page.
Are you a parent or guardian seeking assistance with child care payments?
Child care subsidy programs are available to eligible families as funding allows. If you are seeking help paying for child care, please visit our Help Paying for Child Care page to learn more.
Are you seeking child care and development services in Fresno County
CAPMC administers child care and development programs to rural areas in Fresno County. For more information, click here or contact the Fresno Migrant Head Start office at (559) 277-8641.
Other news and information:
CAPMC Child Care Resource & Referral belongs to the California Child Care Resource & Referral Network, a resource for parents, providers, and child care resource and referral agencies.