Fresno Migrant/Seasonal Head Start (FMSHS) serves mobile families living in the Fresn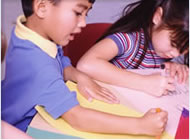 o County rural area. Services are offered using the center-based full-day option.
All the centers are licensed through the Department of Social Services, and are open Monday through Friday 6am-5pm. FMSHS offers services at nine rural center locations throughout Fresno County: Biola, Firebaugh, Five Points, Huron, Mendota, Orange Cove, Parlier, Reedley, and Selma. See our Brochure (in Spanish).
Fresno Migrant/Seasonal Head Start's focus is to promote the school readiness of low-income children by enhancing the social and cognitive development through the provision of health, education, nutrition, transportation, social, and other needed family services.
FMSHS encourages growth, independence, and self-sufficiency to the children and families through the many enrichment activities offered. Recruitment of children with disabilities is one of FMSHS's main priorities.
Please review the Parent Handbook (link coming soon) for a full description of enrollment, services, and policies.
In the classroom
The Creative Curriculum for Preschoolers is used in preschool classrooms, and the Creative Curriculum for Infants and Toddlers is used in infant and toddler classrooms. Both of these curriculums are used by teachers as a guide to plan developmentally appropriate activities supported by a strong knowledge of early childhood education.
Program eligibility requirements
Children birth to compulsory school age;
Migrant families who travel from one geographical area to another in search of agricultural work;
Families living in poverty according to the annually published Head Start Family Income Guidelines; and
More than half of the family's income (51%) comes from agricultural work.
Homeless children shall be deemed eligible for such participation in the program.
Parents as Partners: Policy Committee (PC)
Parents are decision-makers through their participation in the Policy Committee. The purpose of the Fresno Migrant/Seasonal Head Start Policy Committee is to support the Program in planning, organizing, and developing programs consistent with the 2007 Head Start Program Performance regulations of the Head Start Act. The Committee works in partnership with the CAPMC Board of Directors, the governing body for CAPMC; both share responsibility implementing the overall goals of the Program.
In addition to their involvement in the PC, parents also participate in other programmatic committees such as the Curriculum Committee, the Health Advisory Committee, the Personnel Committee, and the Budget Committee.
Agendas and minutes

(coming soon)
Parent volunteers are our greatest asset
FMSHS has great parent participation. Parents have always been committed and supportive to ensure the Program meets the requirements of the Head Start Performance Standards. Parents volunteer many hours to ensure the in-kind non-federal match is met or exceeded every year. Examples of volunteer services provided by parents are time spent in the classroom assisting teaching, kitchen, and janitorial staff, as well as helping with clerical duties.
Healthy Schools Act Requirement:
Please see the Annual Notification for details about pesticides that we expect to use during the year.
Please see this document to review your center's Integrated Pest Management Plan.
Other resources
If you have any questions you can contact us online or call (559) 277-8641 Monday through Friday 8am-5pm.