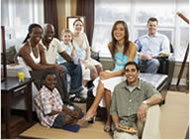 Community Action Partnership of Madera County (CAPMC) team members relish the opportunity to shape, grow, and transform our community to become a healthy, vibrant place to raise a family, work, and play. We hire high-caliber team players who share our values and our drive to eliminate the effects of poverty by helping people obtain the knowledge and skills to achieve self-reliance and economic stability. Team members are people-driven and results-oriented; they take pride in their workplace, live the Agency's values and ethical business practices, give back to the community, and enhance diversity.
We look for team members who are inspired by all of this and fit well with the collaborative culture at CAPMC. The people who make up our team:
Have integrity. They do what's right in both relationships and results. They are honest and trustworthy.
Have empathy. They know how to listen, pay attention to each other, and understand the needs of colleagues, customers, communities, and other stakeholders.
Are good team players. They know how to collaborate, participate, debate vigorously, build commitment, and take action.
Are authentic and innovative. They look at situations from fresh perspectives and generate innovative ideas.
Are constantly seeking to improve; they are not satisfied with the status quo and want positive change.
Are high performers. They drive for results and bring their colleagues with them. They are accountable and deliver what they say they will.
Have courage. They stand for what they believe, are candid and straightforward, are not afraid to lead, and are committed to excellence.
Are passionate. They are energetic and excited about the personal and professional opportunities offered by CAPMC to help people, change lives.
To ensure we provide a clear set of standards and guidance for conducting business with integrity and the highest degree of compliance with the law we established:
We are collaborative and inclusive, but we are also results-driven. We take diversity seriously and believe that having a workforce as diverse as ours is a responsibility to customers and the community we serve. We also take each team member's career seriously.
Join our team and grow your experience in the human services delivery field; you will grow with us and we will grow with you.