Have you been a victim of a crime in Madera County?
Often until one has become a crime victim he or she may never have heard of Victim/Witness Services or contemplated the wide range of services available to crime victims. Highly-skilled and well-trained Victim/Witness Advocates provide the necessary services to help victims through the complex criminal justice system, and to locate important resources in the community.
We can help
If you or a family member have been assaulted, battered, molested, injured by a drunk driver, murdered, or robbed, you may be eligible to receive services.
The Victim Services Center (VSC) can help by:
Helping you with the application for a state claim through the California Victim Compensation Program (CalVCP) to be reimbursed for:

medical and dental bills;
funeral expenses;
mental health services; and
moving expenses.

Accompanying you to court hearings and case updates;
Helping you prepare a victim impact statement; and
Increasing your safety by helping you apply for a restraining order.
As a crime victim, you have the right to: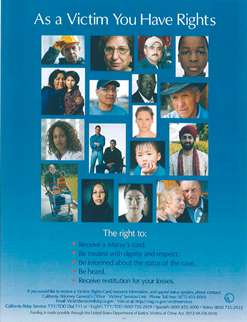 Receive a Marsy's Card
Be treated with respect, dignity, and compassion;
Be protected from the accused, intimidation, and harm;
Be informed of social services and resources available in the community;
Be informed of the criminal justice process, and the status of the case;
Be accompanied to court for support;
Have opinions considered at the case disposition through a victim impact statement;
Request the return of your property; and
Be compensated for injuries, wage loss, and funeral expenses.
Click here for more information on the California Victim Compensation and Government Claims Board.
Need help now?
If you need immediate assistance please call our 24 hour toll-free crisis hotline at 1 (800) 355-8989. If you have an immediate emergency please call 911.