Community Action Partnership of Madera County (CAPMC) Child Care Resource & Referral (CCR&R) is committed to helping parents find quality child care for their children.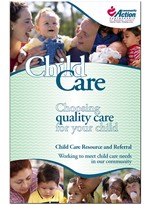 Five steps to choosing quality child care:
Start early 

Start looking

 

as far in advance as you can. No matter what type of care you are considering-a child care center or someone else's home-finding the right child care option can take some time.

Make a call
Call CCR&R at (559) 675-8469 or 1 (800) 505-0404 to speak with a Referral Counselor about child care options that will best meet your needs. Read resources for parents.
Visit and ask questions
Make sure you visit the child care facility/home you are considering. Download and review our Choosing Quality Child Care Brochure in English or Spanish.
Make a choice
Think about what you saw at each visit and make the best choice for your child and family.
Stay involved
The work isn't over when you find good care for your child. You and your child's caregiver are partners now:
Have parent-caregiver meetings regularly and ask questions.
Offer to volunteer time when needed, i.e. participate in clean up days and fix broken toys.
Be there for your child's birthday party.
Visit your child at child care and read a book aloud.
Join in special events like field trips, Career Day, Black History Month, or other holidays.
Even if you can't get time off from work during the day, you can still check in at drop-off and pick-up times. Ask the caregiver how things are going and how your child is doing.
Visiting and participating in events at your child's child care facility sends a strong message; it tells your child and your child's caregiver that what your child is doing and learning is important.
Click here to learn more, or call CCR&R at (559) 675-8469 or 1 (800) 505-0404 from 8am-5pm, Monday through Friday. You may also contact us online.