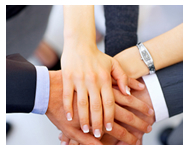 Community Action Partnership of Madera County (CAPMC) strongly believes one of the most important determinants of program excellence is the presence of qualified, well-trained team members. In order for staff to perform effectively and to meet the changing needs of our program participants, CAPMC has established several initiatives to support a continuous learning environment. These are:
New Employee Orientation Program
The new Employee Orientation is to familiarize new employees with the Agency's history, mission, vision, values, strategic plan, policies, procedures, policies regarding unlawful discrimination, harassment and retaliation, performance expectations, knowledge of system navigation, and to meet the agency's Executive Director. New employees will receive information regarding agency policies, compensation, benefits, and safety program. In addition, the new employees will be assigned a "buddy" who shall assist with the new employees' integration into the Agency. The Agency requires new employees to attend orientation within two months of their first physical working day. This requirement will apply to all positions including, without limitation (i.e. Provisional and Temporary positions). Supervisors are expected to provide their new employee with a more specific orientation  about their department.
Performance Review and Development Program (PRDP)
The goal of the Performance Review and Development Program (PRDP) is two-fold: to link individual performance to the mission of the Agency, and to achieve a workplace of high performing individuals and groups who take responsibility for their work. All CAPMC team members have the opportunity to participate in the PRDP as it is an ongoing, continuous dialogue between staff and their supervisors. During the dialogue, team members discuss their current responsibilities, identifying what resources and training are needed to further develop their performance. The PRDP also gives employees the opportunity to create long-term goals. View the PRDP Guide for more information.
Financial Assistance for Continuing Education (FACE)
FACE represents one element of CAPMC's investment in our team members. Based on the availability of funds, FACE provides financial assistance for costs associated with the pursuit of job-related educational activity. CAPMC supports the efforts of individual employees to improve their job-related skills and knowledge, and is aware that in order to enhance their career skills or prepare for career-related promotional opportunities, team members may need to further their education.
Staff training and development
Staff training and development is a continuous creative process individualized to meet the goals of every team member while remaining responsive to the overall program. Strategies to support the implementation of this system range from individual coaching, to workshops, to formal college course work.
If you have any questions about our employee development initiatives, contact us online or call (559) 673-9173.