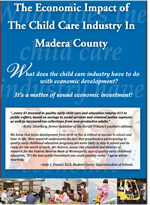 As the designated Child Care Resource and Referral (CCR&R) agency for Madera County, Community Action Partnership of Madera County's (CAPMC) CCR&R helps families find child care that meets their needs.
What CCR&R can do for you
Our staff works closely with parents to provide them with the contacts and information they need to find and evaluate appropriate child care. Our dedicated staff of trained, experienced consultants can help you:
Understand the logistical, financial, and philosophical aspects of child care;
Assess, identify, and clarify your child care needs;
Get referrals to child care providers that best match your needs;
We will provide you with child care referrals for any community in Madera County.
An important part of choosing child care is the process of interviewing, visiting and observing potential child care providers. It is your right and responsibility to seek as much information as you can in order to choose child care that best meets your family's needs.
While you look for child care please remember:
The information we collect is very important to give you the best referral possible, so we ask that you please complete all required information.
All personal information collected is kept CONFIDENTIAL
This data is also used to assist state and local agencies to understand and plan effectively to address child care needs in our community.
Your referral list:
The referral list you will receive will consist of child care providers who match the criteria you entered. In order to ensure fairness to all of our child care providers who are on our referral list, providers who meet your specified criteria will be picked at random from our computer database. We encourage parents to use the brochure Choosing Quality Child Care (see link above) as a guide for selecting a child care program.
Research Based Documentation – Quality Indicators from Child Care Aware of America.
If you need additional assistance with a personalized referral or have questions with our online referral system please contact the Child Care Resource & Referral Program at 559-675-8469 or toll free 800-505-0404.
If you are not in Madera County and need child care in another part of California, please click here to find the local R&R Agency in your part of the state to help you.
Let's Get Started with Your Referral List!
---
Need help paying for child care?
CAPMC has several options to help eligible families pay for child care services while they work, go to school, or seek employment. Read our Help Paying for Child Care page to find out if you are eligible for this assistance.
---
Complaints against licensed child care facilities
If you SEE Something, SAY Something!
To report a complaint or a concern regarding a State Licensed Community Care Facility or Child Care Facility, call:
1-844-LET US NO
1-844-538-8766
---
Other resources
If you have any questions, you may contact us online or call (559) 674-8469 Monday through Friday 8am-5pm.