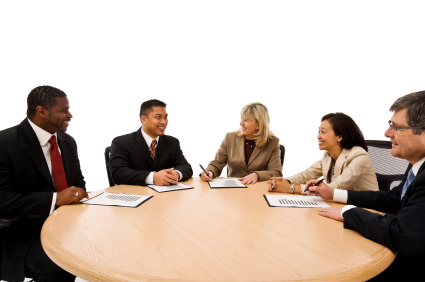 Community Action Partnership of Madera County's (CAPMC) Board of Directors and senior leaders work diligently to be good stewards of public trust by ensuring Agency resources are well-protected and used efficiently to accomplish the mission for which we exist. The Board is also charged with maintaining ethical management practices to ensure the long-term sustainability of the Agency.
CAPMC's Board of Directors specifically oversees this fiduciary responsibility for the Agency. It ensures that senior leaders:
Fulfill all regulatory legal and funding obligations;
Establish internal control procedures;
Meet reporting requirements set forth by federal, state, and local governments; and
Meet the standards for financial management of a non-profit agency.
On top of all of these responsibilities, the Board has to ensure the Agency complies with all restrictions imposed by donors on the use of their contributions.
To ensure the integrity of the fiscal stewardship of public and private funds, CAPMC's Board of Directors has access to accurate and readable financial reports with relevant content and sufficient context to interpret the Agency's financial data.
To accomplish fiscal integrity and stewardship, the Fiscal Department is staffed with professional, qualified employees and utilizes a fiscal management system that features:
Accurate and dependable accounting;
Effective internal control procedures;
Transparent reporting;
Informed analysis;
Responsible planning; and
Appropriate responses to its financial data.
The Fiscal Department manages the day-to-day fiscal operations of the Agency and provides the following services:
Purchasing and accounts payable;
Payroll and benefits;
Program and management reporting;
Fixed asset management;
Cash management;
Annual audit and fiscal monitoring;
and Risk management.
In addition, the Board's Finance Committee is fully engaged in the Agency's financial operations. It meets quarterly with the Executive Director and the Chief Financial Officer to ensure the Agency is committed to sound and strong stewardship of our tax dollars. During this meeting, the parties discuss how they are working towards building and preserving the financial resources necessary to support the short and long-term accomplishments of the Agency's mission.
CAPMC's Budget 2010-20111
The CAPMC 2010-2011 fiscal year budget is based on the poverty issues in our community identified by the Board of Directors, the Senior Management Team, and the Balance Score Card – Strategic Plan, the Agency's strategic plan. The budget is reflected below:
Funding sources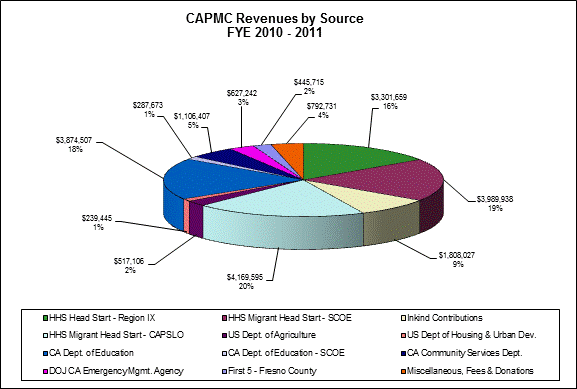 How funds are used