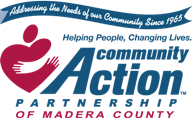 COMMUNITY ACTION PARTNERSHIP OF MADERA COUNTY
1225 Gill Avenue
Madera, CA. 93637
Telephone: (559) 673-9173
Facsimile: (559) 673-2620
www.maderacap.org
---
EMPLOYMENT APPLICATION
---
The CAPMC is an equal opportunity employer. CAPMC provides equal employment opportunity to all persons regardless of race, national origin, religion, color, ancestry, physical disability, mental disability, medical condition, genetic information, marital status, sex, gender, gender identity, gender expression, transgender, sex stereotyping, age, sexual orientation, military status, veteran status, and any status protected by applicable federal, state and local laws.
Instructions:
Read position announcement thoroughly and understand all the minimum qualifications.

Answer all questions by writing clearly or typing in black/blue ink. Provide enough details to allow for full review and consideration. If an answer does not apply to you, write N/A.

Completely fill out the application and sign it.

Use a separate application when applying for more than one position.

Inquiry may be made of your former and current employers or schools regarding your performance records. Please provide the name and phone number of each contact on your application.

Please contact the Human Resources Office if you change your address or telephone number.

If you need any accommodation in the application or the testing process pursuant to the Americans with Disabilities Act (ADA), please call the Human Resources Office at (559) 673-9173.