CAPQuest 2010-2020 is CAPMC's strategic planning and management tool based on the Balanced ScoreCard performance management system. CAPQuest will enable our organization to strengthen its vision and strategies and translate them into action. The tool will provide feedback about both the internal business process and external outcomes in order to continuously improve strategic performance results.
Before CAPMC can allocate available resources, we must first understand the needs of our program participants and the factors that will affect the community in the future. By looking ahead and asking program participants what they need, we can establish a vision of the type of services the Agency will need to provide, along with an understanding of what resources will be necessary to deliver these services. CAPQuest 2010-2020 will help assure that efforts are purposefully designed and focused to meet the strategic needs of our organization and ultimately those of our community.
In the coming years, CAPQuest 2010-2020 will play an even more critical role in the Agency's response to poverty and welfare reform. Accordingly, CAPMC's four divisions-Community Services, Alternative Payment Program/Resource & Referral, Head Start, and Victim Services-are focused on fortifying our historical commitment to customer-directed quality services.
CAPMC's vision for 2020 describes how the future will look for the Agency:
By 2020, CAPMC will be recognized as a premier social service agency that eliminates the effects of poverty by helping people obtain knowledge and skills to achieve self-reliance and economic stability…
one life at a time.
We will achieve this vision by four standards of excellence: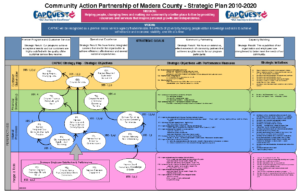 Premium Programs and Customer Service
Goal: For our programs to achieve exceptional results and our customers to be highly satisfied with the quality of the customer service they receive.
Operational Excellence
Goal: To have a formal, integrated system that enables the organization to achieve efficiency, effectiveness, and exceed customer expectations.
Community Partnering
Goal: To have an extensive, effective network of community partners that achieves tangible results for our program participants.
Capacity Building
Goal: To strengthen the capabilities of our organization and team members to better meet the needs of our community.
Balance Score Card – Strategic Plan is a living document, not a stack of regal blueprints. CAPMC will continue to update this ten-year plan by adjusting priorities and strategies based on changing internal strengths, weaknesses, opportunities, and in the event of any unforeseen factors.
2010 – 2021 CAPQuest Final Performance Report
---
CAPQuest Programmatic Session for October 19, 2022
Victim Services Balanced Scorecard Google Doc
Community Services Balanced Scorecard Google Doc
---
For more information, please contact us online or call (559) 673-9173.