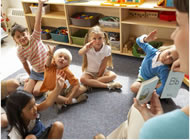 Thank you for participating in the Migrant/Seasonal Head Start Program, the most successful longest-running school readiness program in the United States. Please review the Parent Handbook (in Spanish) for a full description of enrollment, services, and policies.
Head Start provides and supports families and children with:
Comprehensive education and school readiness;
Ensure children receive medical and dental screenings;
Mental wellness services;
Nutrition education;
Social services information and referrals;
Full inclusion of young children with disabilities; and
Parent engagement activities that support children and families wellbeing.
Comprehensive Education
Our Head Start Program utilizes Creative Curriculum as the basis for our program's curriculum. It is an Anti-Bias Multi-Cultural Bilingual Curriculum used to meet the specific needs of the children enrolled in the program. It helps children and families appreciate their own uniqueness, learn to feel comfortable with those different from themselves, and to appreciate the differences as well as the similarities in people and their life styles.
The curriculum is based on 38 objectives for development and learning, which are fully aligned with the Head Start Child Development and Early Learning Frameworks, Desired Results Developmental Profile 2015 (DRDP), as well as early learning standards for every state.
Parent Engagement
As parents and families of Head Start children, there are many ways for you to become involved and stay engaged in the program, and in your children's education and future. Research shows that children whose parents are involved in their education do better in school. Getting involved at the preschool level will prepare you to be active once your children enter elementary school, middle school, and high school. Schools need parent and family involvement to succeed just as much as your children do.
As parents and family members, Head Start welcomes you in the classroom. The program also teaches you how to create a learning environment at home in an effort to support classroom learning.
To become better role models for your children, Head Start will help you explore opportunities to expand your education, find or get a better job, and tap into support groups where parents and family members encourage each other.
Parents in Action–Parents as Partners:
Taking part in the Parent Policy Committee
 The Policy Committee is a group of Head Start parents and community members. Representatives and Alternates are elected from each center during the parent council meeting at the beginning of the program year to represent their center. Policy Committee members take part in the shared decision making process in our Head Start Program. The Policy Committee meets monthly to provide formal channels for parent involvement in the shared decision making of the program. The Policy Committee is an excellent opportunity for parents to develop leadership skills and provide meaningful contribution to our Head Start Program. The Policy Committee works in partnership with the Board of Directors and management staff to develop approve or disapprove:
Funding applications
Program's mission and philosophy
Criteria for defining recruitment, selection & enrollment priorities
Annual self-assessment
Services Areas and program options
CAPMC-Parent Policy Committee Meetings are held monthly. Parents will be reimbursed for mileage and childcare expenses in accordance with approved policy.
The Policy Committee works in partnership with the CAPMC Board of Directors, the governing body for CAPMC. Both review and approve a resolution of internal disputes including any impasse in the governance of the Head Start Program.
Policy Committee meeting agenda, agenda items, minutes and budget and in-kind reports (coming soon).
Other resources
For a list of services available in Madera County, view our Resource Book (in Spanish).
If you have any other questions contact us online or call (559) 673-0012 ext. 5803, Monday through Friday 8am-5pm.